Château d'Amboise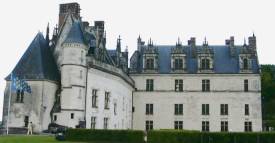 The Château d'Amboise sits on a strategic promontory over the River Loire. In the eleventh century there was a ford across the Loire at this point and the first serious castle was built to guard the ford by Fulk Nerra ('Fulk the Black') who was every bit as scary as his name suggests. Fulk's castle was added-to over the centuries and by 1492 it was in the hands of Charles VIII 'The Affable' (who was, in fact, fairly affable, at least compared to Fulk.) It was Charles who began the major refurb of Amboise in the French-Late-Gothic-Flamboyant style we see today. Sadly for Charles, he never saw the building work completed: in 1498, he hit his head on a low doorway in Amboise and died of concussion.
King François I saw the work completed in 1515, including the impressive formal gardens and intricately-carved Chapel of Saint-Hubert. François invited many guests to Amboise, including painter, inventor and all-round polymath Leonardo da Vinci. He housed Leonardo in the Clos Lucé, a town house connected to the Château by an underground passage. Leonardo spent the last three years of his life here, and today you can see models of some of his extraordinary inventions, including a man-powered, single-occupant military tank that looks remarkably like a Dalek.

For his patron François, meanwhile, Leonardo was commissioned to make a mechanical lion, which could walk forward and open its chest to reveal a cluster of lilies - hardly a serious use of so great a talent, but hey, that's kings for you.Your guide at Amboise will probably tell you that Leonardo is buried in the Chapel of Saint-Hubert. All they really found, during excavations in the 1860s, was a skeleton and fragments of a stone inscription containing some of the letters of Leonardo da Vinci's name - so it might actually be the grave of Vince Dodo.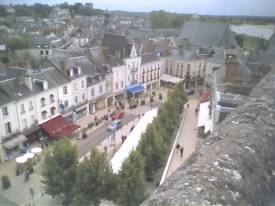 Mary Queen of Scots grew up in Amboise. A political hot potato even at the age of five, she was spirited away from Scotland by Henri II who intended she should one day marry his three year-old son François and unite the kingdoms of Scotland and France. It seems the toddlers hit it off straight away, and ten years later, they were married at Notre-Dame in Paris. Whilst at Amboise, Mary learnt French, Italian, Spanish, Latin, Greek, music (two instruments,) poetry, prose, horsemanship, falconry and needlework. She probably didn't learn them from King Henri, who was frequently away on 'business trips' (i.e. seeing his mistress Diane of Poitiers in the Château de Chenonceau).
After the heydays of the sixteenth century, Amboise fell into disfavour and disrepair. Much was demolished during the Revolution, under Napoleon and during the Second World War. Today, you see about one fifth of what would have been there in François' time. The present owner is Henri, Comte de Paris, direct descendent of the last French king Louis-Philippe, and therefore pretender to the French throne - should he want the job.
Amboise is open every day of the year (except Christmas Day and New Year's Day) and admission costs only 9 €. When you visit, watch those low doorways.