Château de Blois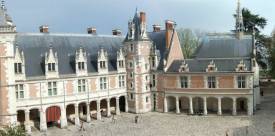 Like the Château d'Amboise, the Château de Blois towers over a small town on the River Loire. The two châteaux are only 14km apart and share a similar history; ancient river fortress, Renaissance Royal Palace, decline, demolition and relatively recent renovation. They share many of the same historical characters too; François I, Henri II and Catherine de Medici all lived at Blois at one time or another, and exercised their passions for Renaissance architecture and indiscriminate bloodshed.
In 1407, Charles de Valois inherited the Château de Blois when his father Louis Duke of Orléans was assassinated. Still, every cloud has a silver lining. Charles loved Blois, but eight years later, he was wounded and taken prisoner at the Battle of Agincourt. The 21 year-old Charles then spent the next twenty-five years as a prisoner in England. He passed the time by writing poems, and when he was finally released, he returned to Blois with several volumes of rather good poetry, including, appropriately 'La Forêt de Longue Attente' (The Woods of Waiting.)
It was Charles' son King Louis XII who made Blois the political capital of France and initiated some serious home improvements like the ones going on down the river at Amboise. Whilst Louis' building works may gave gone to plan, his domestic life did not. The annulment of his first childless marriage proved difficult and embarrassing. Louis' case rested on only two facts: 1) he couldn't remember when he was born, so may have been only twelve when he married and 2) his procreative abilities had been inhibited by witchcraft - hardly the sort of evidence to stand up in court.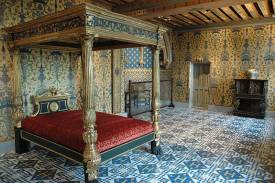 Louis must have got better from the witchcraft, because he and his second wife produced a daughter, Claude. Claude married François Duke of Angoulême in 1514, and a year later, François became François I. Claude immediately started nagging François to do something about Blois so they could live there instead of dreary old Amboise. François obliged and built, amongst other things, the magnificent spiral staircase which is such a feature of the Château today. Interestingly, Claude's ladies-in-waiting at Blois were the Boleyn sisters, Mary and Anne. Anne kept herself busy as official translator for any English visitors, whilst Mary kept herself busy by having an affair with François.
Moving on to 1588, the Wars of Religion were hotting up in Paris, so Henry III made a strategic withdrawal to Blois. He invited the brothers de Guise (the Duc and the Cardinal, respectively) to talk things over. Henri had the Duke assassinated in his bed by the Royal Bodyguard of 45 soldiers, which suggests Henri was taking no chances. He then threw the Cardinal into the dungeons. He then changed his mind and had him assassinated too. As well as these bloody locations at Blois, you can visit Catherine de Medicis' 'Chamber of Secrets' where, it's said, she kept her poisons.
Blois, like Amboise, is open every day of the year (except Christmas Day and New Year's Day) and admission costs only 7,5 €. Well worth a visit, but think twice before, like the Duc de Guise, agreeing to a sleepover.