Palace of Fontainebleau

Fontainebleau is the largest of France's Royal Châteaux and lies just outside Paris (about an hour by train and bus from the Gare de Lyon.) As with other French renaissance châteaux, there had been an earlier medieval castle on the site and Louis VII (who had the chapel consecrated by Thomas à Beckett,) Philip II (who went on the Third Crusade with Richard the Lionheart) and Louis IX all lived there.
It was François I who initiated the Renaissance-style rebuild of Fontainebleau, as he later did at Blois and Amboise. Whilst François' predecessors had spent plenty of time fighting the Italians, he was the first French king to take an interest in the new humanist ideas emanating from Italy. It was François who invited Leonardo da Vinci to France. Leonardo was delighted, and brought the Mona Lisa with him as a thank-you present. That's why the Mona Lisa hangs in France today, and indeed, the art treasures that François accumulated at Fontainebleau now form the basis of the Louvre's collection.
Of all his numerous châteaux, Fontainebleau became François' favourite residence, as well as the residence of his official mistress Anne, Duchess of Etampes. (It's not known where he kept his unofficial mistresses.) As well as the Oval Court and Golden Gate, François built France's first copyright library (presumably for nights when Anne said she'd rather read) and a wine-fountain (for nights when Anne was reading.)
François' successor Henri II carried on the good work, egged on, no doubt, by his aspirational wife Catherine de Medici. Henri built the Salle des Fêtes and hired in the best Italian mannerist painters to do the decor. ('Mannerist', by the way, basically means that the ladies have very long necks and very high breasts.) Henri also built the Galerie de Diane de Poitiers, after his mistress. Not very tactful, you might think, but maybe he told his wife it was the Galerie de Catherine.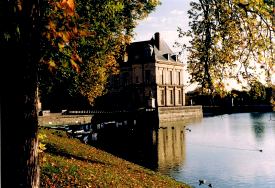 Later in the sixteenth century, Henri IV built the Henri IV Court, the Princes' Court and the Gallery of the Stags, which he used as a library, rather than for stag nights. He also developed the vast grounds with formal gardens, orchards, woods and a lake. Many of the contents of Fontainebleau were sold off in a giant yard-sale during the Revolution, but fortunately for the buildings, Napoleon took a fancy to them and maintained them as his private palace. (Versailles, by contrast, was too closely associated with the last king, and was allowed to fall into disrepair.)
Napoleon housed Pope Pius VII at Fontainebleau on two occasions, once in 1804, when the Pope consecrated him as Emperor, and again in 1812, when he kept the Pope prisoner for two years. That's dictators for you. Napoleon's nephew Napoleon III was also attracted to Fontainebleau and it flourished once again as the Court of the Second Empire (1852-1870.)
Fontainebleau is open every day except Tuesdays (and 1st Jan, 1st May, 25th Dec) Admission is 8 €, under 18s go free, and there's free admission for all on the first Sunday of every month. At least, that's what Napoleon told the Pope.